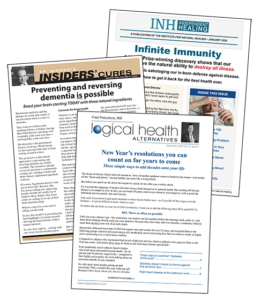 Subscriptions to our monthly newsletters provide readers with more in-depth recommendations and details for naturally tackling today's most challenging health problems based on the latest science and our doctors' personal research and experience.
Our monthly newsletters are like receiving a personal letter each month…
Each issue contains multiple articles written by the doctors themselves. These detailed articles allow them to expand on the news and breakthroughs they've touched on in their daily emails.
Each monthly newsletter covers more of the science behind the many natural solutions our doctors uncover, so readers have a better understanding of how and why things work.
This also provides more valuable information for talking with doctors, specialists and other healthcare practitioners.
Subscribers will get all the details needed to help put these natural solutions to work for them.
---

Recent Articles:

---

Recent Articles:

---

Recent Articles: